There are two ways to arrive in Westray: by sea from the ferry terminal at Kirkwall and by air from Kirkwall airport.
From Kirkwall you will travel by the Orkney Islands Ferry, which is a Ro-Ro (roll on roll off). It accommodates both cars, passengers and freight.
There are three ferries servicing the route, namely the Earl Sigurd, the Earl Thorfin and the Varagen. The first two ferries are of identical design but the Varagen is different in that there is a top deck and two lower side decks and is a little larger than the other two.
Contact Orkney Ferries +44 (0) 1856 872044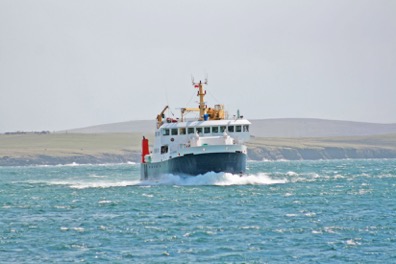 Loganair operates the local air service to and from Kirkwall and the islands. A hard runway and modern lighting ensures the aircraft can land safely at Wetray airfield in most weather.
The summer 2016 timetable is from March 2 to October 24.
Tel: +44 (0) 1856 872494
or 1856 873457
Email: orkneyres@loganair.co.uk