For anyone keen to explore and discover more about the past, Westray offers an unrivalled selection of sites of all periods, several on public display (all of which are free of charge) and many more of which, though not necessarily signposted, can be visited.
The island has a wealth of Neolithic remains, foremost amongst which is the extensive settlement at Links of Noltland, which is currently under investigation.
Neolithic Villages, artworks and Tombs
The island has a wealth of Neolithic remains, foremost amongst which is the extensive settlement at Links of Noltland, which is currently under investigation. The excavations, begun in 2007 in response to the severe erosion of the sandy landscape behind Grobust Bay, are unearthing the remains of a Neolithic and Bronze Age farming village which is the most extensive settlement of its kind in Britain yet to be examined. Over 30 prehistoric buildings have been examined in detail and several more await investigation. Highlights so far include the discovery of several small figurines- the most well-known of which is the Westray Wife (on temporary display in the Westray Heritage Centre). These have the distinction of being the earliest known human sculptures in the British Isles and are, as far as we can tell, unique to this settlement. Another house contained the skulls of both wild and domestic cattle within its foundations. Winner of the Current Archaeology Award in 2014 for best rescue excavation, the dig runs during the summer months and visitors are welcomed.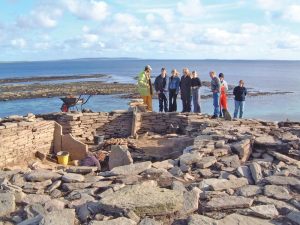 There are also numerous Neolithic burial places to visit, which include chambered tombs and burial cairns. The stalled cairn at Point of Cott, which has been stripped by excavation down to its underlying structure, offers a rare insight into Neolithic engineering. Many more prehistoric burial monuments can be found throughout the islands, often in elevated positions. Along the west Westray walk, for example, there are prominent cairns on Fitty Hill and Knucker Hill, and several more on the lower slopes. Continuing south, the prehistoric funerary landscape on the promontory at Berst Ness, contains a variety of burial monuments, including the Knowe of Skea, which stands on the highest point of the adjacent tidal islet. The enduring spiritual importance of this place throughout prehistory has been demonstrated by the findings of recent excavations.
From a chambered cairn in Pierowall village came the world-famous Westray Stone. The elaborate spirals and graceful curvilinear designs are more closely comparable with artwork found in the Boyne Valley in Ireland than elsewhere in Orkney and suggest an independence of mind at work here- an possibly a distinct island identity even in prehistory. The stone is now permanently on display at the Westray Heritage Centre.
Bronze Age Farms, Saunas and burials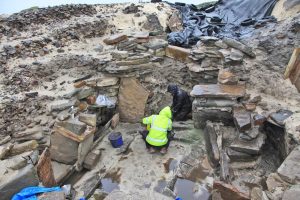 Over much of Orkney, evidence of Bronze Age settlement is extremely rare, but recent excavations on Westray are revealing a wealth of new information. At Knowe of Skea an isolated cluster of Bronze Age buildings, situated on a tidal islet, are thought to represent a ritual or religious complex. Originating in the Neolithic, this was greatly extended throughout the Bronze Age and remained in use into the Early Christian Period.
In the eroding sand dunes Links of Noltland, several farmsteads, comprising of stone built houses, byres and barns, are surrounded by contemporary enclosed cultivation fields and improved pastureland. The folk who lived here and worked the land were buried in a nearby cemetery, now also excavated.
In 2015, investigations on an eroding mound close to the sea shore uncovered a sophisticated Bronze Age subterranean building, entered via a sloping stone corridor. The building appears to have been used as a sauna until became buried beneath massive blown sand deposits. It is extremely well preserved- further excavations are planned here in 2016.
Iron Age Brochs and Graves
The most identifiable of the monuments of Iron Age date found on the islands are the massive stone-walled homesteads known as brochs. These are thought to represent the high status settlements of this period. As elsewhere, the majority of brochs lie on or close to the coast and many have been damaged by coastal erosion. Excavations at Peterkirk revealed traces of a broch which had largely succumbed to the sea but nonetheless retained traces of elaborate outworks, including an encircling rock-cut ditch. Preliminary investigations at the brochs of Burristae, Queena Howe and Hodgalee indicate that these broch settlements were surrounded by clusters of houses and workshops.
Entirely unique, however, are the funerary remains discovered at Knowe of Skea which, between the 2nd century BC and the 5th Century AD, became the burial place for the local community. It is by far the largest cemetery of this period yet found in Scotland and has much to tell us about health, diet and lifestyle of the population and about their funerary practices and spiritual beliefs.
Early Christians
Evidence for early Christian monastic activity include of a nunnery on the Holms of Aikerness, and several 'lost' chapel sites whose existence is inferred from place name evidence, such as 'Kirbest'. It is also probable that the Castle of Burrian, now renowned as a puffin colony, and reputedly once the site of a medieval leper colony, may have originated as an eremitic stack site. New evidence, in the form of a bronze bell of Irish origin has recently come to light during the Knowe of Skea excavations. Of 7th to 8th Century date, this very rare object and its discovery on a site of such long-lived spiritual importance may indicate that it was used by early Christian missionaries.
Viking – Norse Settlers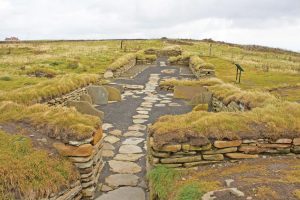 Viking and Norse sites abound, just as Nordic resonances continue to the present day, notably in personal names, place names and customs. The village of Pierowall, with its sheltered natural harbour, is thought to have been heavily settled in the Norse period. The church of Lady Kirk is thought to originally date to this period, although much of the surviving remains (including sculptured gravestones) are later. In the mid 1800's the largest Norse cemetery ever found in Britain came to light in the sand dunes behind the village. Many of the graves contained weapons and high status objects, testifying to the wealth of the local population and their engagement in long-distance trade. References in the Orkneyinga Saga mention some the famous (and infamous) characters to have lived here and archaeological evidence of their settlements have been found in a number of places including Tuquoy, Langskaill and Quoygrew. Excavations in the 1980s at Tuquoy uncovered a high status settlement, complete with smithy. While little of this is now visible, the nearby mid-12th Century church of Cross Kirk, thought to have been built by Haflidi Thorkelsson, is worth a visit. At Quoygrew, excavations discovered a settlement which originated in the 9th century AD and continued in use for some 900 years. Lying on the coast edge, the site has been consolidated and is signposted, making it ideal for incorporating into a walk along the beautiful North West coast of Westray.
Castles and Political Intrigue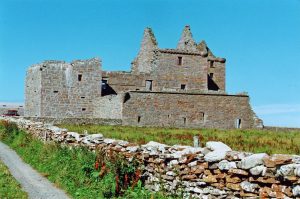 One of the finest of all fortified Scottish tower houses, Noltland Castle, dates to around 1560. Said to be haunted, its fearsome reputation derives from its builder, the notorious Gilbert Balfour, Sheriff of Orkney and Master of Mary, Queen of Scots household. His involvement with the high profile murders of Cardinal Beaton and Mary's husband, Lord Darnley and Mary's subsequent arrest appears to have made him fearful of attack, to the extent that he protected his imposing Z-plan castle with no less than 71 gun loops (he nevertheless came to a sticky end, being executed in Sweden for conspiracy against King John III). While the exterior of the castle retains its formidable aspect, the interior, with its kitchen, fireplaces, decorated newel post, spiral staircase and spacious, elegant upper levels, provides an insight into a way of life far removed from that of its surrounding neighbours. A visit is highly recommended.
Crofting and Fishing
Glimpses into more recent farming and fishing lives can be found throughout the island. On walks along the coast, the remains of kelp drying walls, kelp-burning kilns (shallow, stone-lined circular depressions) and boat nousts (shelters) can be seen in abundance. Many of the farms still in use today incorporate traditional features, such as stone-partitioned byres and corn-drying kilns.
The Westray Heritage Centre (www.westrayheritage.co.uk), offers a selection of leaflets and books together with displays and artefacts and a range of photographic and digital resources for those with an interest in archaeology, history, genealogy and the natural environment.