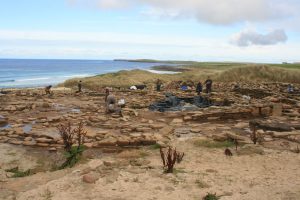 For latest CAW news please click here
The Links of Noltland contains the most extensive and long lived prehistoric farming settlement in the British Isles. To date, the remains of almost 40 well preserved buildings have been identified, ranging from houses and barns, to numerous specialised buildings, surrounded by traces of ancient landscape and human burials. Excavations have yielded immense amounts of new data and materials and full analysis is scheduled to begin in the next year. Over the course of the past 10 years, the site has become well known to an international audience, hitting the headlines with extraordinary discoveries, such as the Westray Wife figurine in 2009 and the underground sauna in 2015.
Download Historic Environment Scotland's Statement of Significance for Links of Noltland HERE
The recipient of numerous awards and the subject of several television documentaries, the site and particularly the annual excavations there, have attracted a large number of visitors, which in turn has significantly boosted the local economy. As excavation winds down, the options for the future of the site are now being examined. Under the current programme, the remains are due to be reburied and the area replanted with grass.
As they presently stand, the drystone buildings are not suitable for being left open to the elements- so this option would at least protect the archaeology. It would mean, however, that no trace of the settlement was left visible for visitors to the site.
An alternative option, under consideration, would be to conserve some or all of the buildings, thereby allowing them to be left open, and to present them for permanent display. The many artefacts recovered from the site will remain on the island until analyses have been completed. Following this, they will be formally put forward for 'finds disposal' and may be acquired by a museum elsewhere in Scotland.
An option currently under consideration is to undertake part of the analysis in public- with opportunities for visitors to see the work in progress and, potentially, to undertake some related 'hands'on' activities. This would ensure the continuation of archaeological 'experience' for visitors and, in the longer term, could strengthen the case for the retention of artefacts locally.
A questionnaire was sent out to all residents of the island asking what is their preferred option regarding the future of the site. Phase 1 is to assess the implications as to the future of the site. If in agreement then phase 2 will be to move forward, prepare plans regarding public access and facilities and to hold public consultations here in Westray, using focus groups, public lectures and displays. The plans have now progressed and a brief summary can be found HERE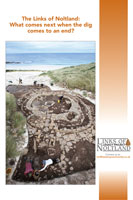 A PDF of the proposal document can be downloaded from HERE
The results of the questionnaire (166 returns) can be downloaded HERE. The comments from the replies can be downloaded HERE.
Comments and questions regarding the project should be sent to CAW@westraycommunity.co.uk
*CAW (Community Archaeology Westray)