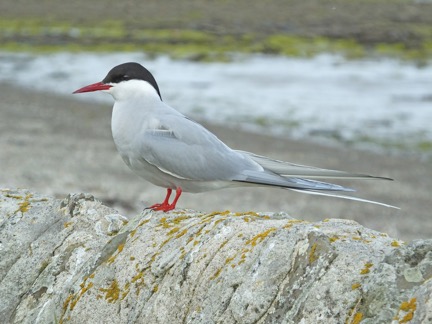 To stand on Noup Head at the north-western corner of Westray in May or June is to enjoy one of the most spectacular experiences in Orkney. The cliff ledges will be home to large numbers of seabirds including Guillemots, Puffins, Kittiwakes and Gannets; the air will be full of wheeling birds and a variety of raucous cries.
Truth is the island's western cliffs house the largest seabird colony in Orkney. On the maritime heath behind the cliffs will be breeding Skuas and Arctic Terns.
But it would be a mistake to think that seabirds are the only wildlife to enjoy on Westray. The freshwater lochs and surrounding vegetation are home to a variety of waterfowl and waders whilst the island's beautiful beaches are great places to enjoy flocks of Sanderling, Ringed Plover and Bar-tailed Godwits. Many migrant birds pass though in spring and autumn; in recent years, these have included some real rarities such as Red-flanked Bluetail and Ross's Gull.
Apart from the wonderful birdlife, animals to look out for on Westray include Seals, Otters and the Orkney Vole. On days when visibility is good and the sea calm, some very lucky folk have seen Porpoises, Basking Sharks and even Killer Whales. Rock pools are home to a range of creatures including Starfish and Hermit Crabs whilst road verges and wet areas are worth examining for wild flowers like Marsh Marigold, Ragged Robin and Northern Marsh Orchid. Such natural riches, combined with stunning coastal scenery and minimal traffic, make Westray an ideal destination for the birdwatcher and wildlife enthusiast.